Aluminium Slat Fencing

- Adding style to your home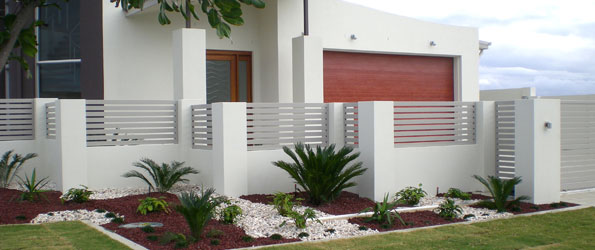 Our stylish Slat Fencing & Privacy Screens are made from tough, rust free aluminium. Offering the latest in architectural style, while giving your home the privacy you deserve. With its strong and durable powder coated finish we offer you a low maintenance, long lasting solution.
Privacy slats are available in a range of colours and can be used on decks, windows, & carports to give you the privacy and security you need. Slat screening can also be used for brick pier in fills, sliding and pedestrian gates. This modular system allows you to tailor a size to suit your requirements. Slats come in 5.5 metre lengths and can be cut down to applicable size. Posts come with precast channels allowing for easy positioning and fixing of slats.
*Custom Panels and Entry/Pedestrian Gates are also available on request.
Our Slat Screen fencing is available in all Interpon Powder Coating colours as well as three exciting new "Wood Effects" colours:
Bush Cherry - Kwila - Western Red Cedar
---